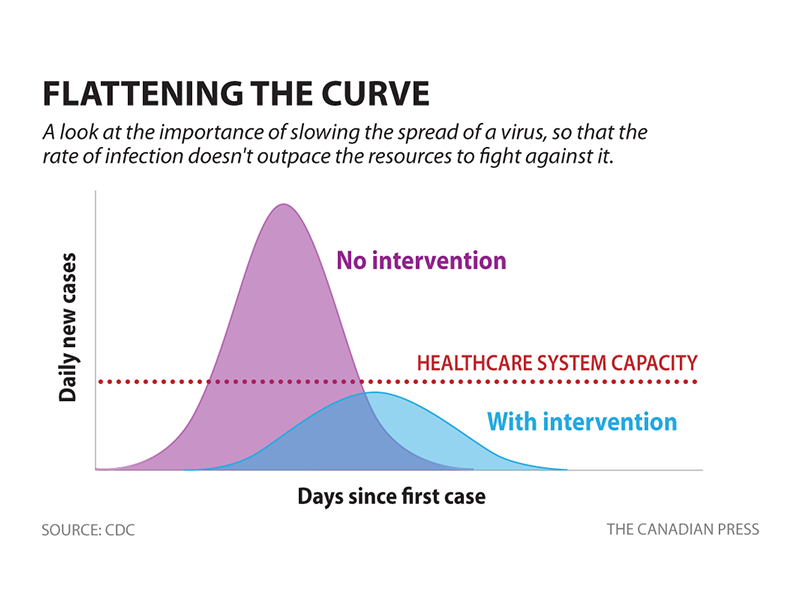 Joint MBMC/IBTN/Can-Change Statement on COVID-19
Prepared by:
Kim L. Lavoie, PhD 1,2 and Simon Bacon, PhD 2,3
Co-Directors, Montreal Behavioural Medicine Center (MBMC)
Co-Leads, International Behavioural Trials Network (IBTN)
Founding Members, Canadian Network for Health Behaviour Change and Promotion (CAN-Change)
This statement is available in several languages. View options
The COVID-19 pandemic is possibly the most important (by virtue of its global scale) health crisis in modern history. The world we woke up to today is not the same as the world we woke up to just a few short weeks ago. The world suddenly feels much smaller – this crisis is not happening in some "foreign" region across the globe, it is happening right in our own back yards. It is happening to all of us (and not 'them'). So now, more than ever, we must come together as one people to overcome this global crisis. The goal is to preserve life, our way of life, and our quality of life. The question is: how?
Perhaps the most striking aspect of this health crisis is the fact that this problem cannot be solved by the traditional biomedical approaches, like drugs and surgeries, that we have come to rely on when we get sick. World health authorities around the globe agree: the only 'treatment' for this virus is not a treatment at all, it's prevention, more specifically: using evidence-based behavioural approaches on a global scale. These behavioural approaches are the cornerstone of an applied discipline called "behavioural medicine", which uses behavioural interventions to prevent, treat and manage chronic diseases. At no moment in time has the relevance and importance of behavioural medicine approaches to disease prevention and management ever been more salient.
Here is where behavioural medicine is central to the COVID-19 solution:
The major issue about COVID-19 is about speed of spread (because there is no vaccine) and its major distinguishing symptom: shortness of breath. This particular virus attacks the lungs. Those infected who develop severe respiratory complications are not likely to die because we have an excellent healthcare system and access to medical devices (like respirators). The problem is…if the virus spreads too quickly, too many high risk patients (elderly, those with other health conditions like heart disease, lung disease, diabetes, cancer, which represents nearly 40% of the population) could be in need of that care and those respirators, and there won't be enough to go around. This is why the focus is on 'flattening the infection curve' (see figure), which effectively slows the speed of spread of the infection so that we don't have a large spike of infected people who may need hospital care in a short period of time and thus overwhelming the healthcare system.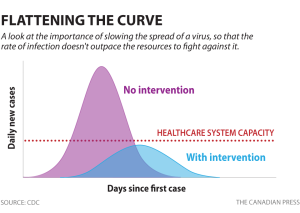 That is why the emphasis is on prevention rather than treatment/cure. Unfortunately, since there is no vaccine, the risk of rapid spread is much higher (and this epidemic serves as a gentle reminder of the importance and value of being vaccinated – including for diseases like the flu, which leads to 140,000-810,000 hospitalizations every year [in the US] and 12,000 hospitalizations every year [in Canada] – because so many people refuse to get vaccinated, which puts those at high risk in danger of severe complications).
Our problem is that we have come to rely so heavily on our healthcare system to "fix us" when we are sick, that we have lost sense of personal and social accountability to adopt a healthy lifestyle and practice good health behaviours – like social distancing, hand washing, coughing into our elbows, staying home when we are sick, and getting vaccinated (when one becomes available). COVID-19 reminds us of the importance of practicing good health behaviours in the context of infectious disease transmission and spread, but they are equally important in the context of non-communicable chronic disease (NCD) prevention and management, since it is NCD's like cardiovascular and chronic lung disease, cancer, and diabetes that account for the majority of global illness and more than 70% of deaths worldwide.
The good news is that adopting good health behaviours is free or really cheap compared to drugs, surgery, doctor visits and hospital stays. You are also in control of your health behaviours, and the "prescription" often boils down to common sense and taking reasonable precautions, and making the adopting of good health behaviours part of your everyday lifestyle.
So don't panic. Get your COVID-19 information from reputable sources like the Public Health Agency of Canada, the Centers for Disease Control, and the World Health Organization and take a massive dose of "behavioural medicine":
Practice social distancing. This means avoiding situations and activities that involve the potential to come in close (1 metre) contact with others or the surfaces an infected person may have touched. This includes:

Work, school/university
Public transport (bus, taxi, Uber, train)
Healthcare facilities
Faith-based activities (church, synagogue, mosque)
Stores, shopping malls (***see if you can get things delivered or brought to you)
All public events (sporting, festivals, conferences, concerts etc).
Personal gatherings (dinners, parties, playdates)
All unnecessary travel by plane (keep informed of travel alerts as they are changing every day, and if you do travel, be prepared for borders to close at any time).

Wash your hands with soap and water for at least 20 seconds before and after going out and after touching public surfaces (use sanitizer with min 60% alcohol if washing is unavailable and avoid touching public surfaces)
Avoid touching your face with your hands
Cough and sneeze into your arm or elbow
Socially isolate yourself (including from loved ones who live in the home) if you are infected or develop any cold/flu-like symptoms (especially fever and shortness of breath) and call your local health authority for instructions
Preserve your mental health by being mindful of your attitude about health directives and risk information. Avoid catastrophic thinking and be creative about finding ways to take advantage of some time away from it all: read, catch up on your favorite shows/movies, cook, meditate, exercise, start your spring cleaning, reach out to a friend or loved one, go for a walk/hike, enjoy quality time with your children.
No need to rapidly stock up on anything (there are absolutely no risks to the goods supply chain in Canada or the US), and masks are ineffective at protecting YOU, they are only effective for helping potentially exposed/infected people like healthcare workers protect patients from them.
Our priority needs to be reducing the speed of spread and protecting the ability of the healthcare system (and our valuable providers) to treat all high risk cases, while still caring for all the other patients in the system.
So practice good, sensible health behaviours – not only to prevent COVID-19 but to prevent other major chronic diseases (like heart and lung disease, cancer, and diabetes) that will still be the world's largest cause of mortality once this health crisis has subsided.
References:
https://www.who.int/emergencies/diseases/novel-coronavirus-2019
https://www.canada.ca/en/public-health/services/diseases/coronavirus-disease-covid-19.html
https://www.who.int/news-room/fact-sheets/detail/noncommunicable-diseases
1- Department of Psychology, University of Quebec at Montreal (UQAM)
2- Montreal Behavioral Medicine Center (MBMC), CIUSSS-NIM Hopital du Sacre-Coeur de Montreal
3- Department of Health, Kinesiology and Applied Physiology, Concordia University