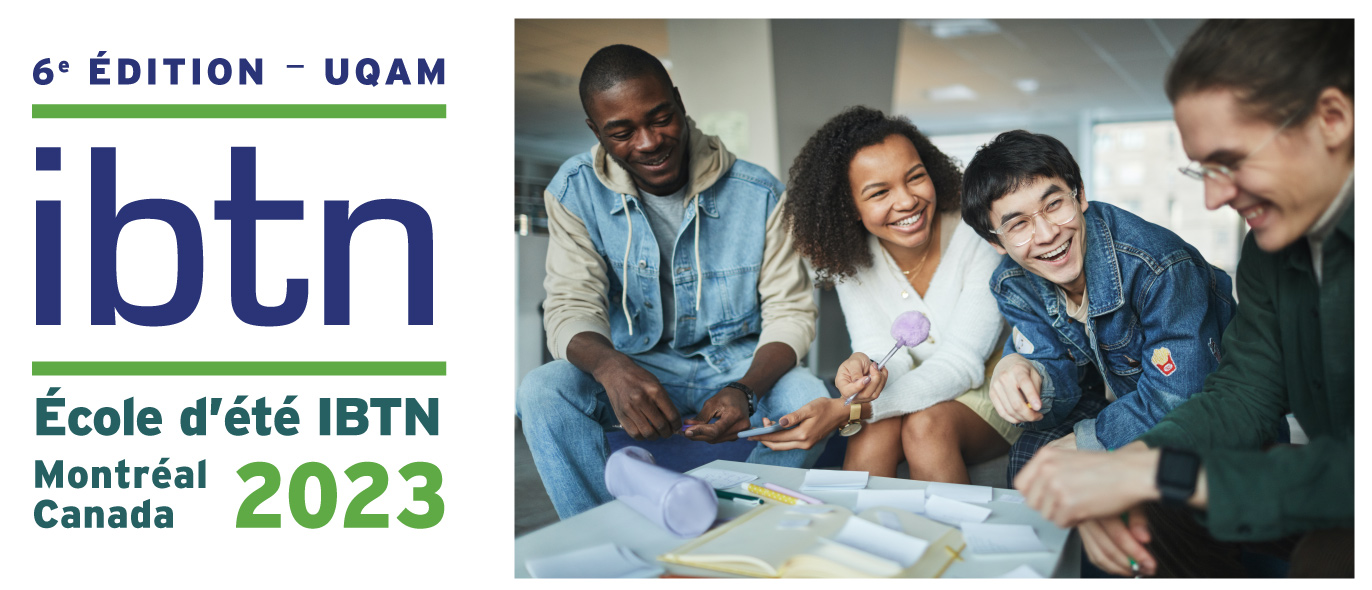 The 2023 edition will be offered in French.
SAVE THESE DATES!
The next edition of the IBTN Summer School will take place in French from May 1 to 5, 2023.
Application period: Starting November 28, 2022
Deadline for submissions: EXTENDED TO FEBRUARY 13, 2023
Offers of admission: February 20, 2023
Deadline to accept admission: March 20, 2023
Overview
The IBTN Summer School in Behavioural Trials is an academic program held over 5 days exploring how to breakthrough current obstacles in behavioural trial methodologies and expand the reach, capacity, and impact of trials in the field of behavioural medicine.
Working with internationally renowned experts in innovative clinical trials, behavioural intervention development, and patient-oriented research, participants will learn about developing effective behavioural interventions and conducting high-quality trials through interactive workshops and training activities.
The IBTN Summer School is designed to foster networking opportunities for its participants, and also features online activities held both before and after the on-site program.
Read more about past editions of the IBTN Summer School
Key Dates for the 2023 Edition
When: From May 1 to 5 (with an opening event on the evening of April 30)
Where: In person in Montréal, Canada on the UQAM campus
Application deadline: EXTENDED to February 13, 2023
Who: Open to graduate students and early career researchers who want to develop and extend their knowledge about behavioural trials
Application Period: Opens November 28 – Learn more!
Participation in the IBTN Summer School is reserved for candidates having accepted an offer of admission. Please refer to the terms of application and admission process for more details and to access the application form.
Subscribe!
Subscribe to the IBTN newsletter for updates about all IBTN activities and programs.
Academic Leader for the 2023 IBTN Summer School
Kim L. Lavoie, PhD, FCPA, FABMR
Professor, Canada Research Chair in Behavioural Medicine, Department of Psychology, University of Quebec at Montreal (UQAM)
Co-Director, Montreal Behavioural Medicine Centre mbmc-cmcm.ca
Researcher, Chronic Disease Division, CIUSSS-NIM – Hôpital du Sacré-Coeur de Montreal
Adjunct Professor, Faculty of Medicine, University of Montreal
Co-Lead, International Behavioural Trials Network ibtnetwork.org
Chair, Canadian Network for Health Behavior Change can-change.ca
Member, College of the Royal Society of Canada
2023 IBTN Summer School Scientific Committee Members
Angela Alberga, PhD – Concordia University (Canada)
Simon Bacon, PhD – Concordia University (Canada)
Tracie Barnett, PhD – McGill University (Canada)
Marilou Côté, PhD – Concordia University (Canada)
Ariane Bélanger-Gravel, PhD – Université Laval (Canada)
Frédérique Deslauriers, PhD(c) – Université du Québec à Montréal (Canada)
Vincent Gosselin Boucher, PhD – University of British Columbia (Canada)
Sara Labbé, PhD(c) – Université du Québec à Montréal (Canada)
Kristopher Lamore, PhD – Université de Lille (France)
Kim Lavoie, PhD – Université du Québec à Montréal (Canada)
Guillaume Lacoste, BA – Montréal Behavioural Medicine Centre (Canada)
Élise Legault, MSc – CIUSSS de la Mauricie-et-du-Centre-du-Québec (Canada)
Nathalie Maroun, MSc – Montréal Behavioural Medicine Centre (Canada)
Geneviève Rouleau, PhD – Université du Québec en Outaouais (Canada)
Geneviève Szczepanik, PhD – Montréal Behavioural Medicine Centre (Canada)
Brigitte Voisard, PhD(c) – Université du Québec à Montréal (Canada)
2023 IBTN Summer School Core Faculty
Angela Alberga, PhD – Concordia University (Canada)
Simon Bacon, PhD – Concordia University (Canada)
Tracie Barnett, PhD – McGill University (Canada)
Ariane Bélanger-Gravel, PhD – Université Laval (Canada)
Vincent Gosselin Boucher, PhD – University of British Columbia (Canada)
Kim Lavoie, PhD – Université du Québec à Montréal (Canada)