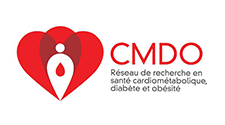 Promote a better quality of life
The CMDO Research Network aims to develop research in cardiometabolic health, diabetes and obesity, to translate knowledge and to promote evidence for improving the health and quality of life of Quebecers. Visit the CMDO website.
Proud sponsor of the "Heart Health Ask the Experts" session on Saturday, May 24.